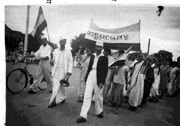 The Quit India Movement (Bharat Chhodo Andolan or the August Movement) was a civil disobedience movement in India launched in August 1942 in response to Mahatma Gandhi's call for immediate independence of India. The aim was to bring the British government to the negotiating table.
Resolution for Immediate Independence
On July 14, 1942, the Indian National Congress passed a resolution demanding complete independence from Britain. The draft proposed that if the British did not accede to the demands, massive civil disobedience would be launched.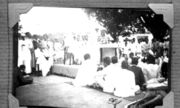 However, it proved to be controversial within the party. A prominent Congress national leader
Chakravarti Rajgopalachari
quit the Congress over this decision and so did some local and regional level organizers.
Jawaharlal Nehru
and
Maulana Azad
were apprehensive and critical of the call, but backed it and stuck with Gandhi's leadership till the end.
Sardar Vallabhbhai Patel
and Dr.
Rajendra Prasad
were openly and enthusiastically in favor of such a disobedience movement, as were many veteran Gandhians and socialists like
Asoka Mehta
and
Jaya Prakash Narayan
.
Some photographs taken by an individual Satyagrahi during the Quit India Movement at Bangalore, (present capital of the State of Karnataka), are also being shown.
External links