Jurassic World: Dominion Dominates Fandom Wikis - The Loop
Play Sound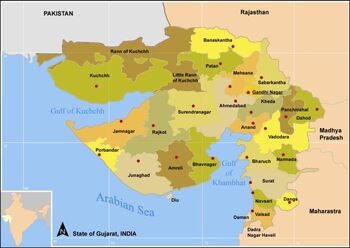 Porbandar is a coastal city in the Indian state of Gujarat. Perhaps it is best known for being the birthplace of Mahatma Gandhi (Kirti Mandir-Birthplace of Mahatma Gandhi).
It is the administrative center of Porbandar District.
Overview: place & people
History
porbandar has been widely known as mafia town for long times but nowadays after bjp come in power in Gujarat common people of porbandar have got breath of hope for batter life as well hope for industrial developement. porbandar was the city which was having Asia's first cement factory of ACC and also maharana mill, and economy was also getting boomed specially in fishing season and also very good base of agriculture and good infrastructure of road, railway and air port.
Culture
Economy
Industries
This one of the places where Associated Cement Cos.(of India) had the oldest cement plant inside the City as seen during 1960s. This factory had also one of the oldest Swiss Steam turbines for their Power requirements. There is also now a new Associated Cement Co. just outside the City, as seen during 1995s.
Textile mill
Maharana mills owned and operated by (Late) Mr.Nanji Kalidas, was inside city and manufacturing cloth for local consumption during 1959s.
Soda ash factory
Birla's Soda Ash Factory was inside the city with their own area for quarters for their staff, during 1959s. The had their own salt pans for their feed requirement of salt.
Power plant
Gujarat Electricity Board put up a Coal fired Steam Turbine Power Plant for catering to the needs of this Soda Ash factory and the local city consumption. This was located in Birla's area only due to the requirements. The city consumption was met before this, by a Diesel power station, inside the city itself.
This power plant had some special characteristics.
The turbine-generators of Swiss make, were so designed that the turbine could supply the Soda Ash factory their requirement of Electric power and in addition steam at 3 different pressures. There was also provision for sea water supply. The turbine governor was so designed to maintain constant frequency and voltage in spite of variation in steam and power demand by factory or the local public.
The boilers of German make, were of stoker fired type, designed to supply, independent of the turbine, steam requirement of the factory.
Understand now that this power station has been sold to Birlas.
Politics
See also
Photo gallery
Everything else
Got something to say that doesn't fit in the other sections of this page?
Create a new page about it:

Porbandar/Miscellaneous
External links
Got something to say that doesn't fit in the other sections of this page?
Create a new page about it:

Porbandar/External links